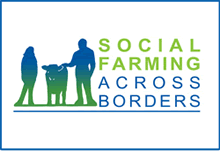 Under The Spotlight
GROWING CONNECTIONS, CHANGING LIVES Insights and Learning From Social Farming Across Ireland
A National Conference on Social Farming took place in the Emmaus Centre in Swords Co. Dublin last Friday, the 23rd of March. 140 attendees from all over Ireland learnt more about the development of s
Read More
Developing a Social Farming Network
Leitrim Development Company (LDC), has recently signed a contact with the Department of Agriculture to establish and develop a National social farming network in Ireland for the development and delivery of social farming across the Country. This collaborative network is innovative in that it will bring together many stakeholders from both agriculture and the health and social care sectors and the network will provide a range of supports and facilitation through four regional hubs.
The support service for the network will be coordinated and supported by a National Social Farming Support Office based in Leitrim. The service will deliver at a regional level through four hubs based in Local Development Companies in Leitrim Mayo Limerick and Waterford.
This regional hub-based network can best meet local needs and circumstances, and can most effectively and efficiently mobilise local resources toward the challenge of developing and delivering social farming. This network and support structure will put in place a sustainable and strong social farming network that will survive and grow in the future.
The four regional hubs will be the Border-Midlands Region, the South West Region, the West Region, and the South East Region. The regional hubs will be engaging with the many and multiple stakeholders and groups of beneficiaries whose lives are improved by engaging in farming and horticultural activities and settings. The network will also be supporting farmers and growers and farm families who are interested in getting involved, providing training for them and sampling placements on these farms over the coming year. The network support will be guided by a National Coordinating Committee, and will draw on the advice and input of a National Advisory panel which will have UK and European expertise.
The project will be staffed at a national level by a National Project Manager Brian Smyth and a Project Coordinator Helen Doherty (086 7905596 & helen@ldco.ie). Each regional hub will have the support of a Social Farming Network Development Worker, and these posts are currently being recruited.
Click on any of the images below to view the full size image in a gallery