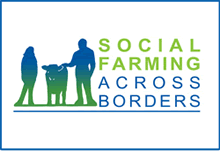 Under The Spotlight
GROWING CONNECTIONS, CHANGING LIVES Insights and Learning From Social Farming Across Ireland
A National Conference on Social Farming took place in the Emmaus Centre in Swords Co. Dublin last Friday, the 23rd of March. 140 attendees from all over Ireland learnt more about the development of s
Read More
Presentation at Omagh Library .
Our Third Network meeting was held in Omagh Library on Monday 25th March 2013. It proved to be a great success with up to 30 attendees from across both the farming and healthcare sectors. It was a great opportunity for both sectors to meet and discuss the project to date and the forthcoming challenges as we prepare to match our pilots with participants.
Some group discussion took place around Network Development and some really useful information was gathered by the team.
Below is the presentation made by hte team on the night.