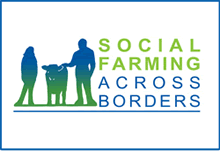 Under The Spotlight
GROWING CONNECTIONS, CHANGING LIVES Insights and Learning From Social Farming Across Ireland
A National Conference on Social Farming took place in the Emmaus Centre in Swords Co. Dublin last Friday, the 23rd of March. 140 attendees from all over Ireland learnt more about the development of s
Read More
Special EU Programmes Body
The SEUPB is one of the six cross-border Bodies set up under the "Agreement between the Government of Ireland and the Government of the United Kingdom of Great Britain and Northern Ireland establishing implementing bodies" signed on 8 March 1999 (the British-Irish Agreement of 8 March 1999). Our main role is to manage cross-border European Union Structural Funds programmes in Northern Ireland, the border region of Ireland and parts of western Scotland.
Our two current programmes (2007-2013) are the European Union's Programme for Peace and Reconciliation (PEACE III Programme) and the European Union's Cross-border Programme for Territorial Co-operation, Northern Ireland, the Border Region of Ireland and Western Scotland (INTERREG IVA Programme), under which the Social Farming project is funded.
The SEUPB also has a role to facilitate project participation in the INTERREG IVB Transnational Programmes which are relevant to Northern Ireland and the Border Region of Ireland and also the INTERREG IVC Programme, which is open to projects across the European Union.