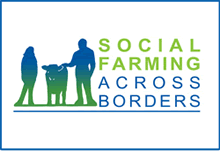 Under The Spotlight
GROWING CONNECTIONS, CHANGING LIVES Insights and Learning From Social Farming Across Ireland
A National Conference on Social Farming took place in the Emmaus Centre in Swords Co. Dublin last Friday, the 23rd of March. 140 attendees from all over Ireland learnt more about the development of s
Read More
About Us
Social Farming Across Borders is an EU INTERREG IVA Funded project which operates in the Border counties of Ireland and all of Northern Ireland.
Social Farming is the practice of offering activity on family farms as a form of social support service. In Social Farming the farm remains a working farm at its core but invites people to participate in the day to day activities of the farm. Social Farming provides people who use services with the opportunity for inclusion, to increase self-esteem and to improve health and well-being.
The farm is not a specialised treatment farm; rather it remains a typical working farm where people in need of support can benefit from participation in farm activities in a non- clinical environment.
If you are interested in Social Farming, the Social Farming Across Borders project is eager to hear from you. We seek farmers, health and social care organisations and representatives who are interested in developing social and health support services on farms.
The Project covers the counties of Antrim, Armagh, Cavan, Donegal, Down, Fermanagh, Leitrim, Londonderry, Louth, Monaghan, Tyrone and Sligo. It is an EU INTERREG IVA funded project. Social Farming Across Borders (SoFAB) is led by University College Dublin, in partnership with Queen's University Belfast and Leitrim Development Company.
Social Farming Across Borders Project Actions
Implement 20 on farm based pilots projects
Establish a network of farmers, health/social care personnel and others
Hosts network visit to Social Farms in Ireland & UK.
Provide training to farmers and health/social care personnel
Share learning through conferences, network meetings and web site
Publish a Guide book to assist the establishment of Social Farming.