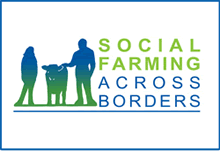 Under The Spotlight
GROWING CONNECTIONS, CHANGING LIVES Insights and Learning From Social Farming Across Ireland
A National Conference on Social Farming took place in the Emmaus Centre in Swords Co. Dublin last Friday, the 23rd of March. 140 attendees from all over Ireland learnt more about the development of s
Read More
Costs & Benefits Report
One of the products from our recent conference was the Cost & Benefits Report. It gives an outline of the many benefits of Social Farming as well as outlining the costs associated with the provision of Social Farming. A must read for all interested in Social Farming whether they are a farmer, a participant or their advocates, or those in the Health & Social Care Sector.
Click here to view the report
"Costs & Benefits of Social Farming"
Click on any of the images below to view the full size image in a gallery