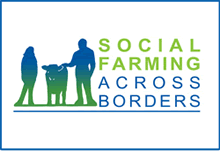 Under The Spotlight
GROWING CONNECTIONS, CHANGING LIVES Insights and Learning From Social Farming Across Ireland
A National Conference on Social Farming took place in the Emmaus Centre in Swords Co. Dublin last Friday, the 23rd of March. 140 attendees from all over Ireland learnt more about the development of s
Read More
Network Meeting 3
SoFAB Network Event 'Project Update'
Venue: The Lecture Room, Omagh Library, Omagh, Co Tyrone
Date: 25th March 2013 @ 7.30pm
Meeting Outline:
This event will be open to all Network members and we hope to have all our participating Pilots present on the evening.
The focus of this meeting will be –
Update from the SoFAB team on progress of piloting.
Introduction of Pilots to the broader Network members from across the region and sharing some Pilot Farm profiles and Pilot farmers experiences to date.
Discussion of issues facing the development of the Pilots and the development of Social Farming.
Introduction of selected Network representatives to the Project Advisory Committee and an outline of their role.
Update on planned project events for April to end June including Network visits and forthcoming Conference.
Free event but BOOKING ESSENTIAL - email helen@ldco.ie
Click here for directions to Omagh Library
Click on any of the images below to view the full size image in a gallery