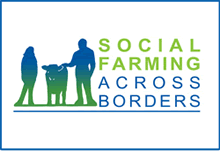 Under The Spotlight
GROWING CONNECTIONS, CHANGING LIVES Insights and Learning From Social Farming Across Ireland
A National Conference on Social Farming took place in the Emmaus Centre in Swords Co. Dublin last Friday, the 23rd of March. 140 attendees from all over Ireland learnt more about the development of s
Read More
Open Days and Network Events
As our development of Social Farming continues across our regions in Ireland we are holding a number of Farm Open days.
On the afternoon of Friday 22nd September Chris Smyth, Westport , Co Mayo will host an open day on his farm.
On the morning of Friday 29th September Colm O Dowd, Oranmore, Co Galway will host an open day.
Also on Friday 29th September Shelly Berry and Denis O'Connor will host an open day on their farm in Ballinamona, Kilmuckridge, Gorey, Wexford in the morning.
On the Afternoon of Wednesday 11th October there will be an open day on Barlows Farm, Glinsk, Co Roscommon.
On Wednesday 11th October we will hold a Network Event targeted at the Farming Sector, with Farmers services & participants sharing their experiences.
This will be held in Kilbride Community Centre, Co Roscommon from 11.30am— 1pm, followed by a light lunch.
You must book for these events - please see flyers attached for booking details.