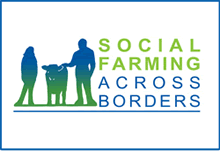 Under The Spotlight
GROWING CONNECTIONS, CHANGING LIVES Insights and Learning From Social Farming Across Ireland
A National Conference on Social Farming took place in the Emmaus Centre in Swords Co. Dublin last Friday, the 23rd of March. 140 attendees from all over Ireland learnt more about the development of s
Read More
SOCIAL FARMING COMES TO WATERFORD
Social Farming Project launches in Waterford
Waterford Leader Partnership in partnership with a local benefactor are developing a Social Farming initiative in Waterford and have employed the services of the Social Farming Support office based in Leitrim Development Company.
This initiative seeks to build capacity among service providers and through a programme of events throughout Waterford and will gather crucial information on how best to implement this new concept of service delivery in the county. The board of Waterford Leader Partnership (WLP) have had an initial half day event to inform and build knowledge and understanding of the concept from the experience of the project.
WLP invites interested parties to attend local events in Waterford scheduled as follows (Booking essential)
Monday 13th June 2016, Red Hall, Lismore, Co Waterford (West Waterford)
1. 10.30am Meeting with Services, Service users and Advocacy groups

2. 8pm Evening meeting with farmers

Tuesday 14th June 2016 , Rainbow Hall, Kilmacthomas (East Waterford)

1. 10.30am Meeting with Services, Service users and Advocacy groups


2. 8pm Evening meeting with farmers
There will be presentations at these events from the Social Farming Support office and also from Pilot Farmers.
These Events are particularly important for, and of interest to, people availing of support services and their families and advocates. Also people who may be seeking or wish to explore an opportunity of engaging in farming life with a farm family, and organisations who commission or contract services and who have a passion for leading opportunities for real inclusion and participation within communities.
We recommend that farmers and farm families across the County take the time to consider the potential benefits of Social Farming to their business and local community. Farm Families also have a key role to play - as key partners in responding to the 'rural life' choices of people and offering new opportunities to people availing of supports through health and social care services.
According to one participant who featured on Ear to the Ground in January 2015 – "Social Farming saves lives".
Click on any of the images below to view the full size image in a gallery