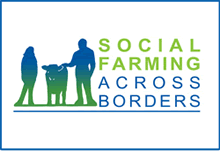 Under The Spotlight
GROWING CONNECTIONS, CHANGING LIVES Insights and Learning From Social Farming Across Ireland
A National Conference on Social Farming took place in the Emmaus Centre in Swords Co. Dublin last Friday, the 23rd of March. 140 attendees from all over Ireland learnt more about the development of s
Read More
Social Farming story told at Bloom
Social Farmer and Garden designer Barry Kavanagh who was one of the original Pilot Social Farmers with the SoFAB project was one of the entrants in Bloom this year.
Barry designed a large garden for the National garden show and with the help of many of the other SoFAB pilots and a number of participants built the garden on site for the month of May.
The garden was visited by thousands including the President Michael D Higgins and his wife Sabina and the Taoiseach Enda Kenny. A number of our Pilots and also participants John Murphy and Shane Loughlin were on hand each day to interpret the garden and tell the real story behind it.
The garden won a Gold Medal in the Large Garden category on the first day, and then on the final day Barry was awarded the Peoples Choice Award (by popular vote) and also the Designers award.
Well done to all involved, and the great message from Social Farming was told to many more!
Click on any of the images below to view the full size image in a gallery