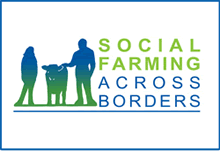 Under The Spotlight
GROWING CONNECTIONS, CHANGING LIVES Insights and Learning From Social Farming Across Ireland
A National Conference on Social Farming took place in the Emmaus Centre in Swords Co. Dublin last Friday, the 23rd of March. 140 attendees from all over Ireland learnt more about the development of s
Read More
Social Farming Training now open for Applications
From June to August 2014 the project will offer two 10 evening courses to people who want to learn more about social farming. The course will be designed with input from University College Dublin and Queen's University Belfast and will draw on the experience of the learning through the SoFAB project, international experience, and leading models in practice in supporting people to lead inclusive fulfilled lives in the community. The course will be offered in 8 classroom sessions and 2 'on farm' sessions.
It will be available in two locations in the region – Fermanagh House, Enniskillen, Co. Fermanagh and CAFRE Greenmount Campus, Co Antrim.
The course will run from 7 -10pm in the evening in both venues.
The course in Enniskillen will commence on Tuesday 24th June, and run each Tuesday thereafter for 10 weeks.
Antrim will commence on Thursday 26th of June and run each Thursday thereafter for 10 weeks.

The course is open to all applicants and while there is no charge for the course there is an expectation of commitment to completion by people applying to the course.
Further information and application form is available from Helen@ldco.ie
Or visit our TRAINING PAGE
Click on any of the images below to view the full size image in a gallery