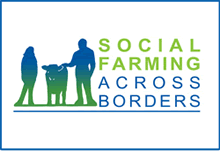 Under The Spotlight
GROWING CONNECTIONS, CHANGING LIVES Insights and Learning From Social Farming Across Ireland
A National Conference on Social Farming took place in the Emmaus Centre in Swords Co. Dublin last Friday, the 23rd of March. 140 attendees from all over Ireland learnt more about the development of s
Read More
Social Farming wins Innovation Award
Social Farming Across Borders wins JFC Innovation Awards 2014 Services/Rural Tourism Category
23 May 2014
By Gareth Gormley, Senior Supply Chain Development Adviser, DARD
David Small, Deputy Secretary for the Department of Agriculture and Rural Development (DARD), congratulated the 20 pilot farms involved in the Social Farming Across Borders project on their success in the 2014 JFC Innovation Awards competition. The competition, with an overall prize fund of €40,000, is jointly sponsored by DARD and Teagasc, in association with JFC Manufacturing and the Irish Farmers Journal. It has been in operation for eight years now and it has been interesting to note the different emerging themes. This year, one such theme was social farming.
What is social farming you may ask?
Social farming was originally developed in the Netherlands and is popular across Europe. It is the practice of offering family farms as a form of social service. The farm is used in a different way to provide health, social or educational care services for a range of vulnerable groups of people. It remains a working farm but people in need of support can benefit from participation in the day-to-day farm activities. People who have availed of social farming opportunities include those with mental health difficulties, disabilities or in need of rehabilitation.
Three farmers involved in the project, Malachy and Dr Miriam Dolan, Garrison, Co. Fermanagh, Mabel and John Campbell, Plumbridge, Co. Tyrone and Larry Masterson, Mountcharles, Co Donegal each had a great story to tell. They are three of 20 farms involved in the pilot project who are trying to build a small business around social farming.
Larry Masterson of Bliss Berry Farm was picked to go through as one of the 12 finalists and the judges were so impressed with his Social Farming Project that Larry won the Services/Rural Tourism Category. Larry has been interested in social farming for many years and helped instigate the current initiative.
Larry said: "Working in a social farm environment has been shown to have a major impact, giving people a chance to develop something for themselves, thus improving their skills and health."
Bliss Berry Farm is a 50-acre mixed farm near Mountcharles, Co Donegal. As well as arable crops and conservation areas, it has a flock of sheep, ponies, donkeys, hens and ducks and a small orchard with raised beds, an open cultivated area of organic blueberries and a large polytunnel. Larry has been producing food for sale in the local country market and has a farm-gate shop as well. It all provides plenty of opportunities for farm helpers to work with the animals or get involved with vegetable growing and conservation work.
Larry said: "These are activities which offer social and rehabilitation opportunities for every individual in a friendly setting." He is developing packages where people can come for two hours for a taste of the farm or up to one or two days a week for a full academic year. A day is from 9am to 3.30pm and carers or social workers often accompany the people if required. Social farming has proved successful in other countries and looks set to provide a fulfilling diversification opportunity for some farmers in the years ahead.
Congratulating Larry and all twelve finalists, David Small added: "I'm delighted with the continued success of the Innovation Awards for Rural Business and am pleased that my Department continues to work closely with colleagues from Teagasc, the Irish Farmers Journal and JFC Manufacturing in managing this prestigious cross border competition."
The competition is jointly sponsored by DARD and Teagasc, in association with JFC Manufacturing and the Irish Farmers Journal.
A short film was also produced by way of illustrating Social Farming on Blissberry Farm Click here to view it SoFAB JFC Innovation Award 2014

Photo Caption: Peter Young IFJ, Gareth Gormley, DARDNI; David Small, Deputy Secretary, DARDNI; and seated MEP Mairead McGuinness; Larry Masterson, Blissberry Social Farm; Professor Gerry Boyle, Director Teagasc; and John Concannon JFC at the JFC Innovation awards.