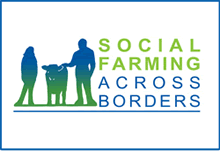 Under The Spotlight
GROWING CONNECTIONS, CHANGING LIVES Insights and Learning From Social Farming Across Ireland
A National Conference on Social Farming took place in the Emmaus Centre in Swords Co. Dublin last Friday, the 23rd of March. 140 attendees from all over Ireland learnt more about the development of s
Read More
SoFAB Office re-opens as a result of support from CEDRA
Social farming project receives funding of €40,000

By Farmers Journal on 04 March 2015
Professor Jim Kinsella, UCD, Minister Simon Coveney, Noel Stewart, Minister of State Ann Phelan at the launch of the Social Farming Handbook in Agriculture House, Kildare Street, Dublin.

A sum of €40,000 from the CEDRA fund will be used to roll out the Social Farming Across Borders (SoFAB) project.
Social farming helps people with a learning disability, mental health issue or an acquired brain injury through farm activities.
In response to a parliamentary question asked by indepdent TD Thomas Pringle, the Minister for Agriculture Simon Coveney said €40,000 from the CEDRA Fund to go into the Social Farming Across Borders (SoFAB) Project. SoFAB is currently operated through the LEADER company, Leitrim Development Company in collaboration with University College Dublin and Queen's University Belfast.
The scheme operated on a pilot basis as the Social Farming across Borders project (SoFAB) from October 2011 to September 2014 through 20 farmers from the north and border counties. A total of 40 clients benefitted through the scheme.
In November the Department launched a handbook for those who are interested in participating in the scheme. It is hoped that there will be 300 social farms nationwide by 2017.
Click on any of the images below to view the full size image in a gallery