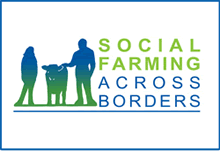 Under The Spotlight
GROWING CONNECTIONS, CHANGING LIVES Insights and Learning From Social Farming Across Ireland
A National Conference on Social Farming took place in the Emmaus Centre in Swords Co. Dublin last Friday, the 23rd of March. 140 attendees from all over Ireland learnt more about the development of s
Read More
SoFAB - short films published
The SoFAB Project has compiled four films over the late autumn – early Spring of 2013/2014 to illustrate the work of the Project.
Four distinct films have been produced and are now available for viewing on our website (via you tube).
SoFAB The Participants Experience
SoFAB The Farmers Experience
SoFAB Service Agencies Views
SoFAB Background & Outlook

We hope you find them informative and useful.
This LINK will take you to the website page where you can select which film to view.
Click on any of the images below to view the full size image in a gallery